Create schedules for your devices using our drag & drop tool. Assign groups of devices or single devices to each schedule. Schedules can include turning On / Off the TV using CEC, IP, or even IR (with our IRUSB device).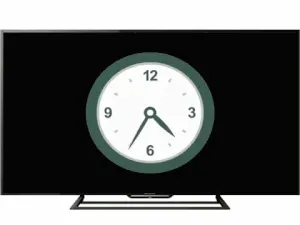 SplashTiles supports full real time remote control on most devices! This allows direct control via our Web Tool or any other Automation system. We have FREE drivers for our partner systems, and you can easily connect to other systems using our simple WebHooks API. Our drag & drop Scripting tool also lets you create powerfull macros to automate all your devices.

SplashTiles can blend video, graphics, and data directly over live HDMI video or your favorite Android video apps. Perfect for motion triggered Camera popups or even notifications or caller ID from your phone. Learn more about this exciting feature you won't find anywhere else!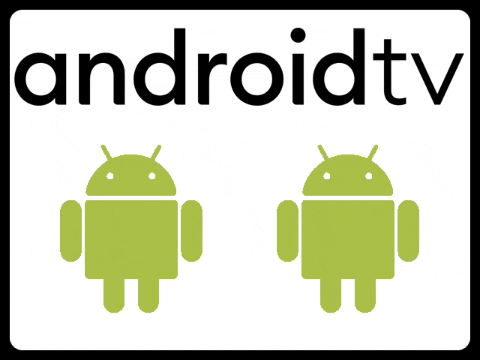 SplashTiles is designed to display your Screens on TVs (either integrated or via a player device) and Tablets. Android, Android TV, and Fire OS (Amazon devices) provide the BEST integration with SplashTiles. Linux is also supported via our GIT python libaries. Finally, you can display your SplashTiles Screens directly via a web browser on any other platform.

SplashTiles Screens can easily be designed for any aspect ratio. Your TVs can be mounted horizontally or vertically. SplashTiles also supports fully Interactive touch displays, either Tablets or TVs with a touch bezel. Learn more about these options.
You never want to see a blank screen or error message on your signage displays. SplashTiles makes sure your screens stay Active by locally caching content and having the ability to define your Offline content to be shown when the network is down.
SplashTiles full 4K video playback of both network streams and locally stored files. Video can be played full screen or tiled. Network video is provided by YouTube and Giphy. Local video files & playlists are synched from your Google Drive account. Locally synched video will continue to play even when the network is down. If you need live HDMI video distribution over network, please take a look at our NetPlay systems.
SplashTiles supports Google Slides for animated slideshows. Simply create your slideshow in your Google account, link it to a SplashTiles Screen, and it can automatically be synched to your devices. Prefer Photos, just add your Google Photos account. SplashTiles can display specific albums or just the latest pics from your phone. Flickr picture feeds and instant slideshows (from search terms) are also supported options. Don't forget Giphy for some visual flair!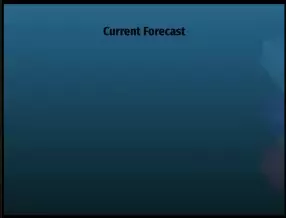 Google Calendar is fully supported and can be displayed as either an embedded "Calendar" view or as an upcoming Events list. For other Calendar sources, SplashTiles supports automatic ICS calendar file path import. Google Tasks is also integrated in SplashTiles.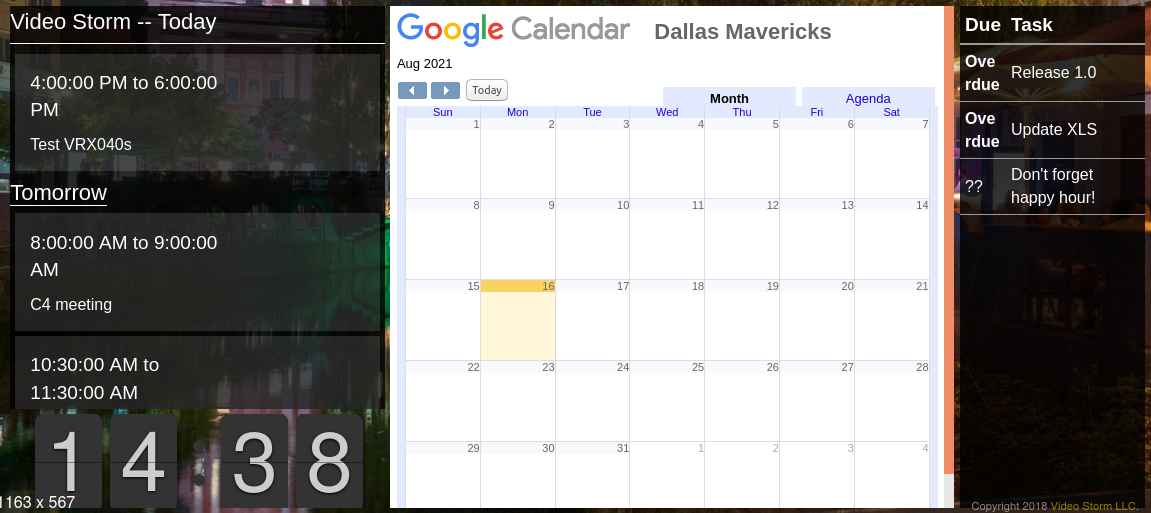 SplashTiles is perfect for viewing your IP cameras on your TVs. You can create a grid of all your cameras, or popup camera feeds via automation triggers. Learn more about camera support.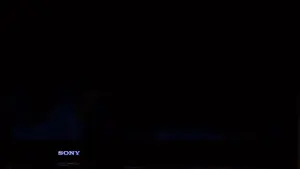 Traffic maps, Commute Time maps, Weather maps, and Radar are all supported.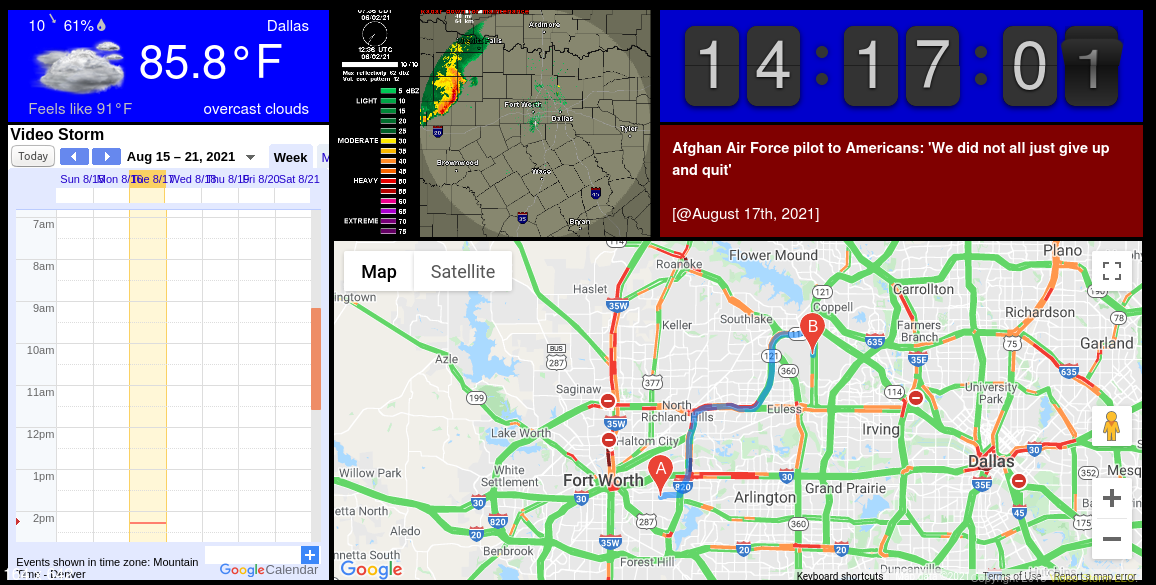 Current Weather, Forecasts, Air Quality Index, Graphs, Weather Maps, and Weather Radar can all easily be added to your Screens.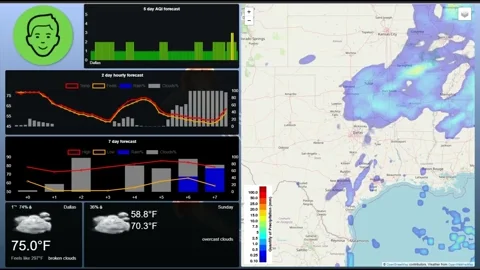 World News, Current Events, Yahoo News, Twitter Feeds, Facebook, Financial News, Sports News, RSS, News in Pictures, and more!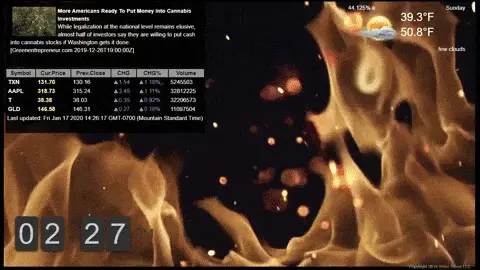 Live Sports Scores are supported in SplashTiles! Soccer, Football, Baseball, Hockey, Basketball, and more. Display as a popup ticker tape when scores update. Tables can give live scores on all of today's games, or just the teams you like. If you are a sports fan, you will love this feature!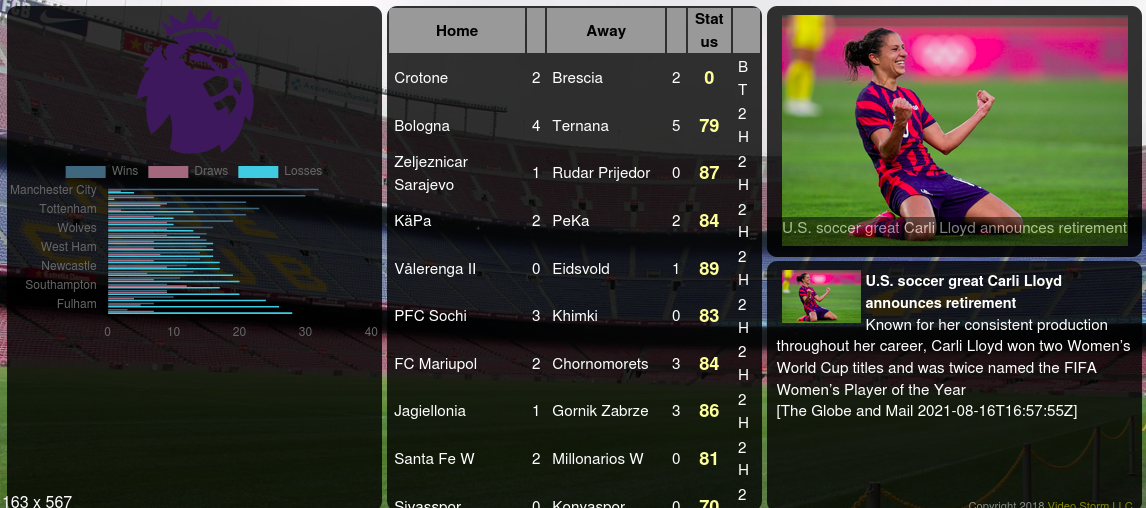 SplashTiles offers several stock formats for overlay on your Screens. Ticker tapes, Graphs, Tables, and Symbol Specific News.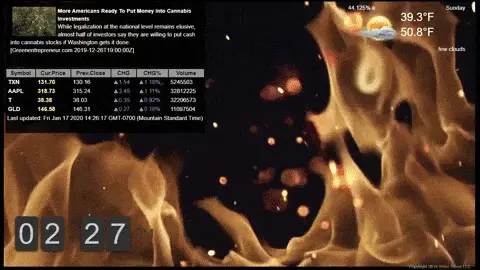 Notifications for Android can forward the notifications from your phone to any of your TVs. Home automation drivers can also create popup windows on your TVs using our Push Data API. Learn more about Notifications for Android.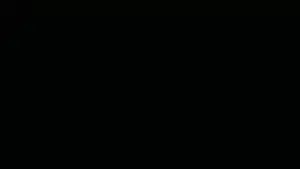 Proceedural Digital Art creates amazing 4K dynamic art for your SplashTiles Screens. Learn more about Digital Art on SplashTiles.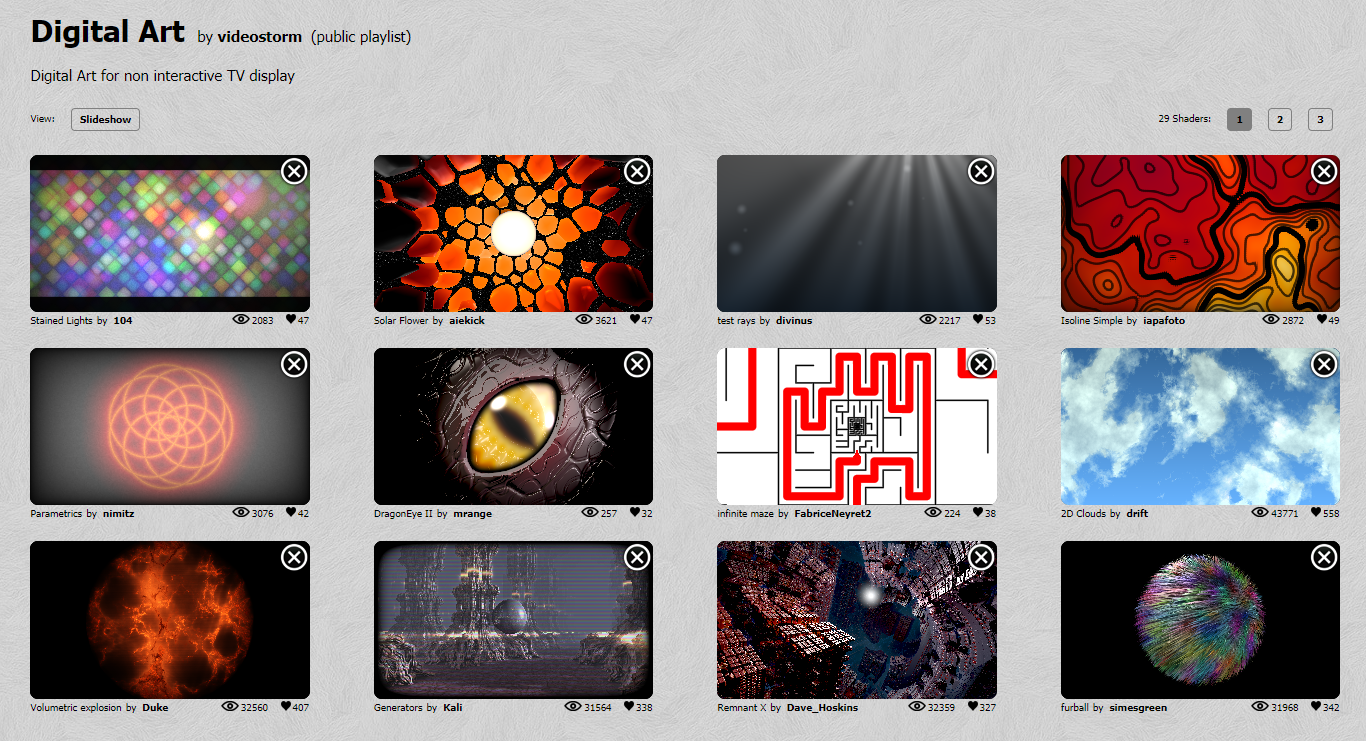 Trivia, Happy Hour Feeds, Local Events, Countdowns, and even April fools pranks.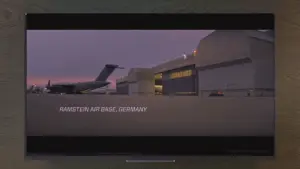 SplashTiles allows you to create your OWN tiles using any embeddable URL. You can also create custom buttons to launch apps, trigger Home Automation actions, and much more!
Any SplashTiles Screen can be set as your custom Android device Screensaver. Works on TVs and Tablets. Learn more about Screensaver Mode.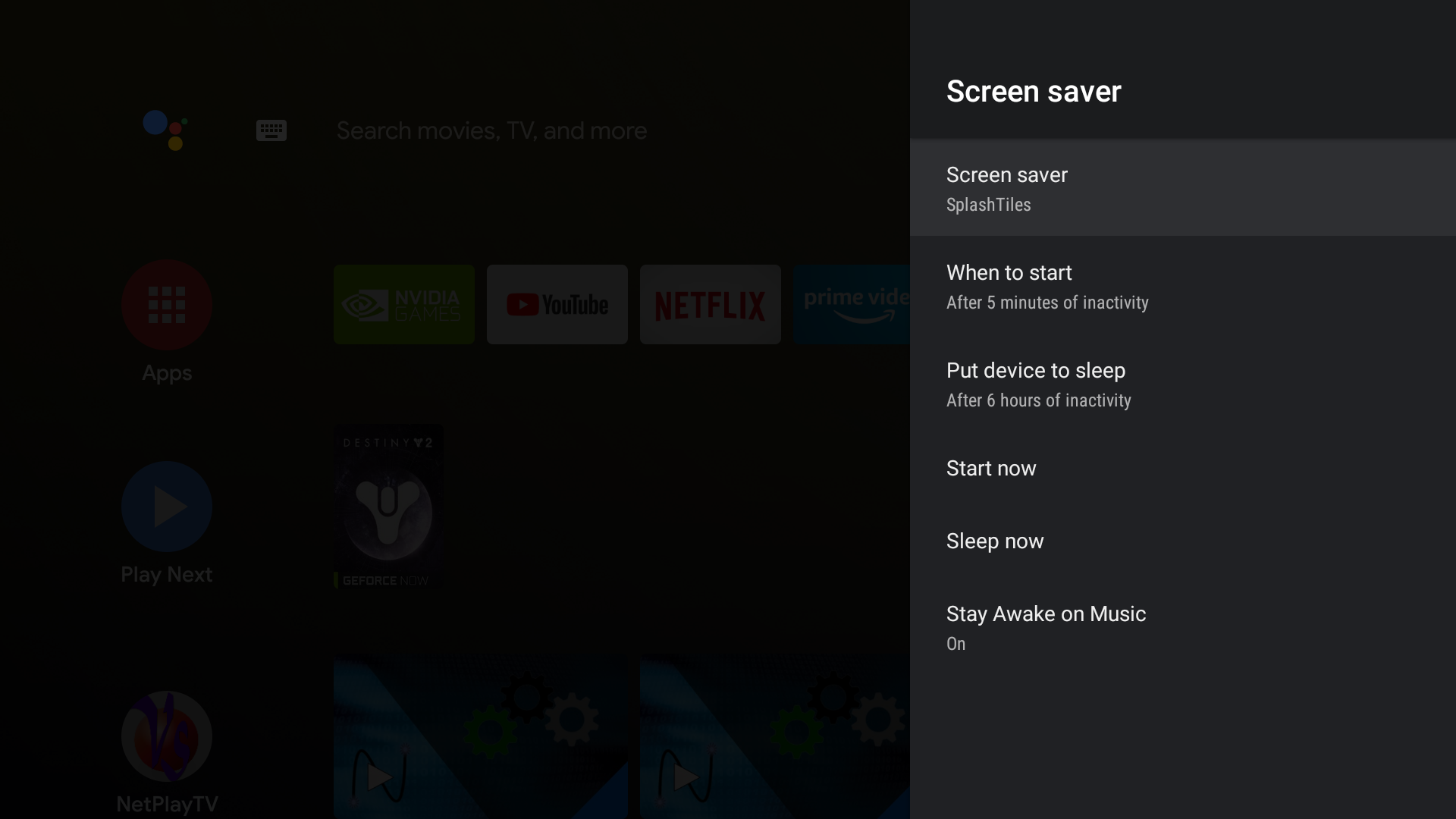 SplashTiles Text 2 Screen allows you to TEXT your TVs! Simply create a TTS address from our Scripts menu, add that address to phone book, and then Text away! Images and emojis are supported as well. 😀 Learn more about SplashTiles Text 2 Screen.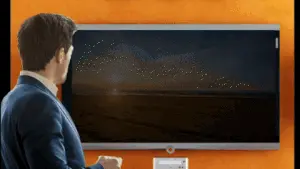 The SplashTiles Alexa Skill allows you to trigger any of your Screens by Voice command only. Learn more about our SplashTiles Alexa skill.